Premier Santa Monica Meeting Venues
Intimate Events in L.A. with Ocean Views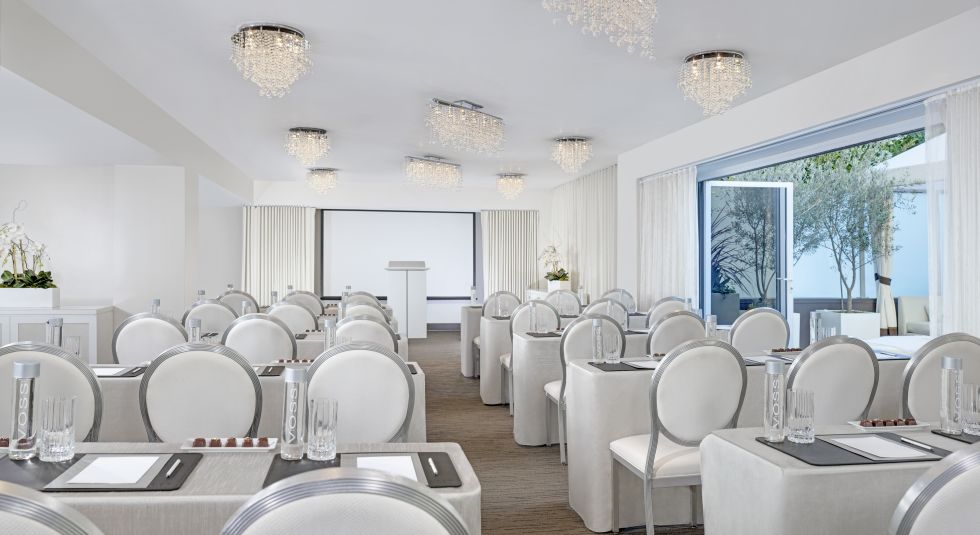 APPOINTMENTS & ENQUIRIES
Tel: +1 310 566 5501
Events@thehuntleyhotel.com
From intimate social gatherings to grand corporate events, the Huntley Santa Monica Beach offers an assortment of meeting venues in Santa Monica for your group. With more than 5,000 square feet of space across our Santa Monica meeting rooms, we offer indoor and outdoor spaces that place the cityscape and oceanfront within reach of your event or wedding. In addition to the sweeping, spectacular meeting areas, our luxury amenities are well-suited to any gathering.
Please contact our team of Event Consultants at 310.566.5501 or submit an RFP to start planning your next occasion.
Planning Your Event
Equipped with 5,000 square feet of private event space, meeting rooms and sophisticated venues for social and professional endeavors alike, Huntley Santa Monica Beach is a unique destination for intimate gatherings and grand affairs.
Venue Size

| Room Name | Dimensions (ft) | Sq (ft) | Ceiling Height (ft) |
| --- | --- | --- | --- |
| The Crystal Room | (Crystal Rooms 1, 2 & 3 can be combined) | 1685 | 8' |
| The Crystal Room One | 32' x 25' | 795 | 8' |
| The Crystal Room Two | 18' x 16' | 285 | 8' |
| The Crystal Room Three | 34' x 16' | 605 | 8' |
| Director's Board Room | 16' x 24' | 430 | 8' |
| Regal Room + Terrace | (Regal Room & Terrace can be combined) | 3000 | 8' |
| The Regal Room | 52' x 27' | 1370 | 8' |
| The Regal Terrace | 88' x 18' | 1630 | Open Air |
| The Penthouse | 120' x 59' | 4650 | 9' |
| The Skyline | 36' x 21' | 755 | 9' |
| The Sunset | 16' x 27' | 455 | 9' |
| The Twilight | 16' x 21' | 345 | 9' |
Venue Capacity

| Room Name | Banquet | Reception | Classroom | Conference | U-Shape |
| --- | --- | --- | --- | --- | --- |
| The Crystal Room | 100 | 120 | 80 | 80 | N/A |
| The Crystal Room One | 48 | 50 | 30 | 36 | 36 |
| The Crystal Room Two | 16 | 20 | 12 | 14 | 12 |
| The Crystal Room Three | 40 | 50 | 30 | 30 | 30 |
| Director's Board Room | – | – | – | 12 | – |
| The Regal & The Terrace | 80 | 130 | 60 | 45 | 45 |
| The Penthouse | 160 | 300 | – | – | – |
| The Skyline | 80 | 100 | – | – | – |
| The Sunset | – | 40 | – | – | – |
| The Twilight | 30 | – | – | – | – |